Page 5 of 5 •

1, 2, 3, 4, 5

All I can say is that I think religion should never be used to prove or disprove flat earth.
I think spirituality is a very personal thing, and people who are overly zealous publicly make me cringe.
Share it with close friends, relatives...not flat earth forums.

Learning about flat earth has increased my feeling of spirituality and connectedness with the creator. But
I would never dream of pushing my religion on anyone else, and I will never use scriptures to try to convince someone that the earth is flat.
For one, you don't need it. It's observable, demonstrative. It needs no ancient text to back it up.
We should focus on tangible evidence and observation.
And second, it makes the reality of flat earth look like a movement of religions nuts. So the association is not good.

Flat earth should be publicly preached without reservation because it deal with the hear and now, the world in front of us.
Religion should be kept private and not shoved down people's throats.
And I am religious.



Posts

: 8


Points

: 56


Reputation

: 2


Join date

: 2019-07-10


Age

: 36


Location

: Michigan



I watched the video by "my perspective" that Schpankme posted. I was a JW for thirty years, my last meeting was soon after I read Eric's Flat Earth Conspiracy. I wrote a couple of letters about FE to the elders, never got a response back. I did more research and discovered that the Watchtower Bible and Tract Society was built on borrowed Adventist theology with lots of Freemason symbols on their literature. The founder, Charles Taze Russell (who was also a Zionist), was buried in a Freemason cemetery near Pittsburgh, Pa. His followers erected a 4,000 lb pyramid monument with Freemason symbols on it, by the grave. Amazing how all this stuff is tied together. The cult, whose leaders can still be seen with Freemason rings on their fingers, demands total adherence to it's teachings, including Globe Earth. Any disagreement is punished by excommunication, with shunning required by all members towards the dissenter, or they too will be excommunicated and shunned. Someday I will get an invitation to a judicial hearing. Should be interesting.



Posts

: 3


Points

: 414


Reputation

: 3


Join date

: 2018-07-13



Admin




Posts

: 1365


Points

: 6224


Reputation

: 3336


Join date

: 2015-12-30



Nick Havok
youtube /DWj0j2iUCpA
Nick, starts off this video by claiming that the State of Colorado is being GEO ENGINEERED. Why?  because he pulled up a Ten (10) day weather forecast showing thunderstorms;
 "They're going to give us a tiny bit of Sun on Saturday"?
 "were getting non-stop rain and snow"
 "their changing the weather around here [Colorado]"
 "were supposed to have 300 days of SUN"
Paraphrasing:  Like what they did to the Vietnamese by making it rain in the rain forest!
Take a look at the Map for Colorado and surrounding States.  Notice how West of of Denver we see Trees and Mountains; and East of Denver we see arid desert type climate in the plains, WITHOUT TREES AND WITHOUT MOUNTAINS?
The map provided, also shows the "current status of wildfires" in these Woodlands.  How can that be, with all that Rain and Snow destroying the scenery for all those folks living in Colorado?
This is the part where we ask the Questions:
What makes the TREES grow in these areas to the west?  Come on you can do it;  RIGHT!  it's called RAIN!  very good.
Ok, Ok, Ok, and what makes for wildfires?  RIGHT!  dead foliage at the bottom of the Tree covered land.
Now here's a hard one, take your time.  And what causes the wood to be DRY and BURN?   Sunshine and Dry conditions? 
Now stay with me here;  IF Colorado gets 300 days of Sunny Weather then that also means that they get 65 days of Not Sunny!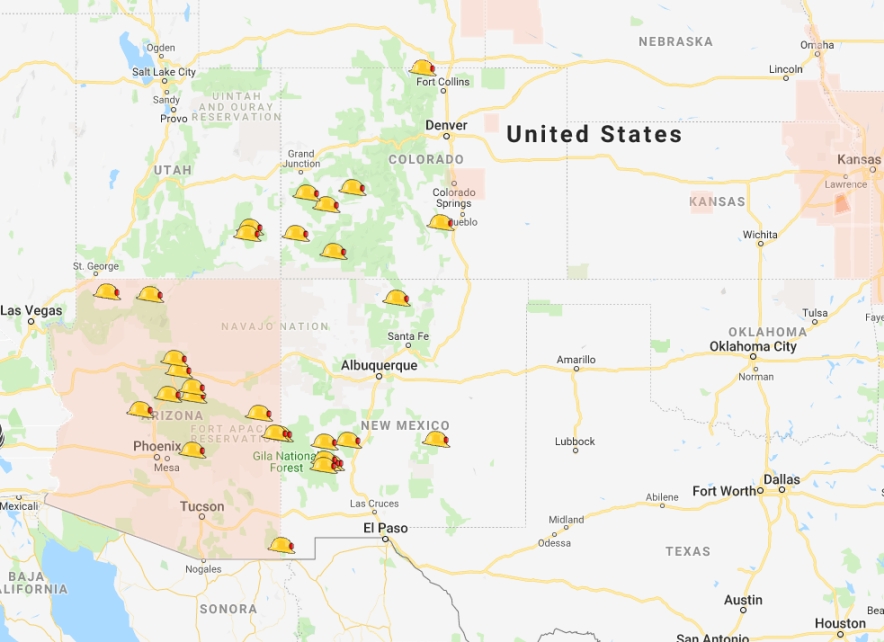 ref: wildfires



Posts

: 1057


Points

: 3963


Reputation

: 1553


Join date

: 2015-12-30



Thanks for the clarification Schpankme, I would've preferred he left out the irrelevant beginning commentary as well.
Admin




Posts

: 1365


Points

: 6224


Reputation

: 3336


Join date

: 2015-12-30



Admin wrote:
I would've preferred he left out the irrelevant beginning commentary as well.
It's my feeling, that the so purpose of that Video was to promote GEO ENGINEERING, so that other flat Earther's would repeat such nonsense and be labeled as conspiracy nuts, etc.
I'd also like to point you to unique writing style of Nick Havok, as seen in the video description:
 If you are too lazy to watch the video..
 the question is this.
 If you do not believe that water can wrap around to the outside of a spinning ball..
 how can you believe that Jesus walked across the top of it?
 Are we going with reality or fantasy?



Posts

: 1057


Points

: 3963


Reputation

: 1553


Join date

: 2015-12-30



Page 5 of 5 •

1, 2, 3, 4, 5

---
Permissions in this forum:
You
cannot
reply to topics in this forum