Page 10 of 10 •

1, 2, 3, 4, 5, 6, 7, 8, 9, 10

RedorBlue wrote:
Nice set of 11th dates
I don't think there is anything but deceit
Not to wonder off topic; 9 11 is found throughout the Zionist media and false flag events.
  Aurora Colorado Movie Theater Shooter -- Dark Night Rises -- James Holmes license plate, 119ROC.
  Boston-Marathon Bombing Suspect -- Dzhokhar (aka The Hoaxer) -- became U.S. Citizen on 9/11/2012.



Posts

: 932


Points

: 3606


Reputation

: 1479


Join date

: 2015-12-30



Might be useful for comparison against NASA provided TV feed of launch? Apollo 15 or 16 launch photographed by amateur on slides.
4000 DPI scans of original slides, colour-corrected and Infra-Red dust removal enabled.
To view full res(5400x3600) scans, right-click on an image and select 'View Image'
Saturn-V launch scans:

Launch animation:
As always the rocket curves around, to go to
space
.
See Ebay-5 for all images in tiffs and uncorrected scans: https://archive.org/download/thirdpartyspacephotos



Posts

: 16


Points

: 195


Reputation

: 1


Join date

: 2018-10-01



7 questions about credibility of NASA.

Below in three parts from Magister Zwyczajny:








Posts

: 72


Points

: 1087


Reputation

: 79


Join date

: 2016-08-27


Age

: 34


Location

: Poland



https://www.boredpanda.com/nasa-space-mission-posters

Since the very first International Space Station mission in 2000, NASA has been creating expedition posters usually featuring a group photo of the crew. These posters were used to advertise expeditions and were also hung in NASA facilities and other government organizations. However, when astronauts got bored of the standard group photos they decided to spice things up a bit. And what's a better way to do that other than throwing in some pop culture references? Fair warning the results are quite cringy, making it hard to believe that these images are actually real.
ACTORNAUTS BEING ACTORNAUTS:
Admin




Posts

: 1358


Points

: 5902


Reputation

: 3181


Join date

: 2015-12-30



Don't forget Expedition 33. Showing the sun/son in the background. With SUNita Williams in the center of the photo. (heliocentric sun worship) I mean she kind of looks like the so-called historical Jesus right?  

SUNita
Will-i-AMs
William = "The future is now."
Will Definition:
1. expressing the future tense
2. expressing inevitable events.
I am = present moment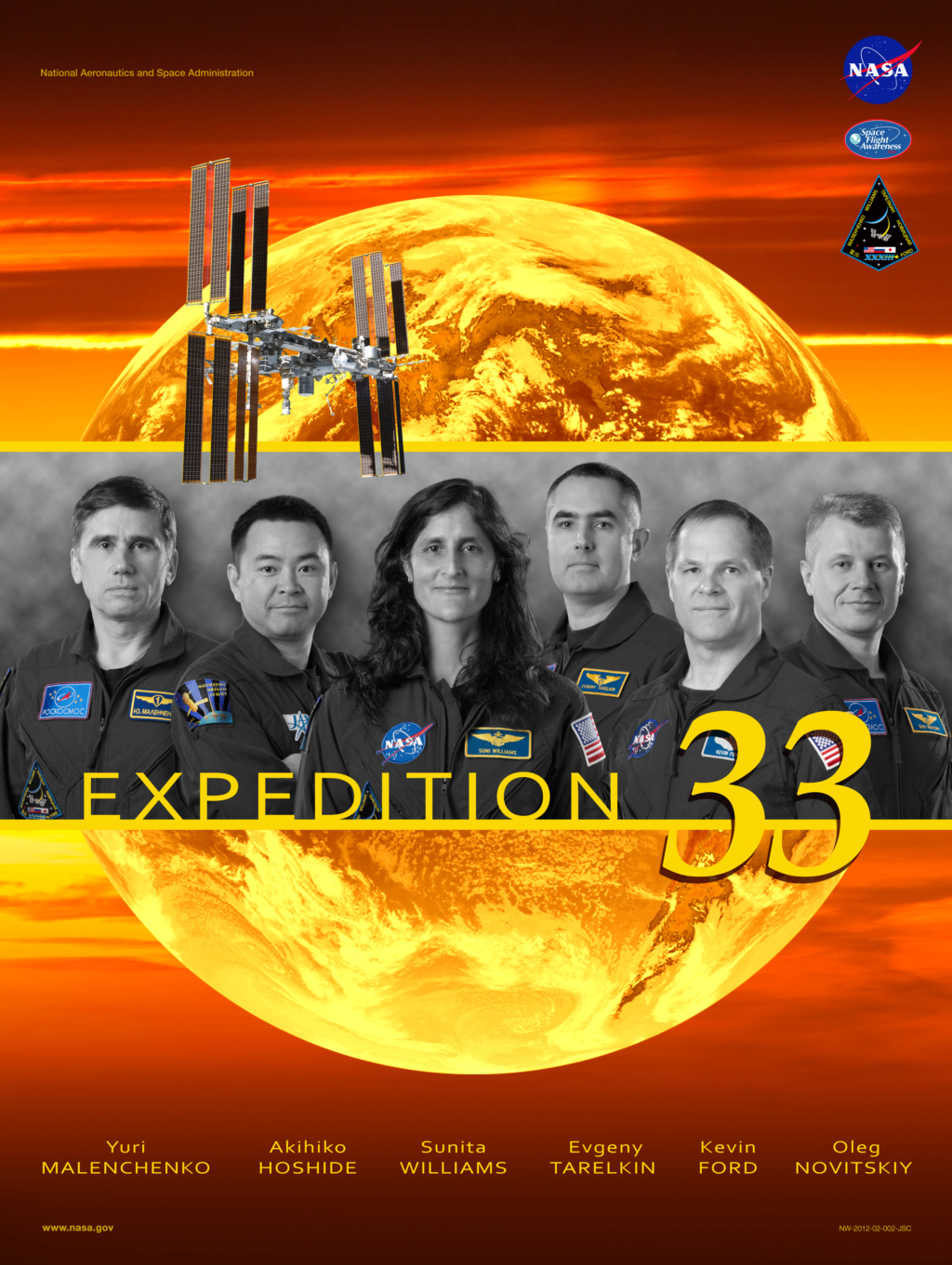 Posts

: 28


Points

: 748


Reputation

: 21


Join date

: 2017-04-22



Six masonic actors in each of these feeble actornaut posters.
The 'women' are trannies.



Posts

: 124


Points

: 1566


Reputation

: 272


Join date

: 2016-01-08


Location

: Northumbria



mitch wrote:Six masonic actors in each of these feeble actornaut posters.
The 'women' are trannies.
I would not venture so far as to call them trannies, NASA does enough insulting to the dignity of women. Here is some footage of Suni floating around on the mission and sporting the NASA hair-explosion hairdo for ladies in space.
https://www.youtube.com/watch?v=SGP6Y0Pnhe4
As she moves around, it stands outward from her head, even when she is showing off her space bunkbed and rests her head on her space pillow. Free-flowing hair does not behave that way.
See also https://youtu.be/kOIj7AgonHM for hair care in outer space.
Compared to long hair on a roller-coaster, or even underwater, hair would flow behind her head as she moves. This is also evident in the Kate Upton Zero-G photo-shoot.
See also https://youtu.be/lKq-tScUWdg
Comparing rollercoaster hair, underwater hair and even Kate Upton's Zero-G hair to this lady astronaut will show you evidence that the lady astronaut hairdo is somehow not right.
Now, perhaps my use of the term "lady astronaut" is sexist -- but the truth is that NASA is sexist. They encourage young women to pursue an artificial goal of studying math and science to become astronauts and fly high into orbit around a ball planet.
That is the bigger insult.



Posts

: 21


Points

: 858


Reputation

: 11


Join date

: 2016-12-21


Age

: 47


Location

: Grovetown, Georgia USA



This video posted today supposedly shows the surface of Pluto in hi-res. Check out video from 0:23 secs when the NASA team applaud the hi-res image. They don't seem to notice the giant Disney Pluto. Complete arrogance.



Posts

: 7


Points

: 551


Reputation

: 1


Join date

: 2017-10-01






Posts

: 59


Points

: 1257


Reputation

: 62


Join date

: 2016-02-10



Page 10 of 10 •

1, 2, 3, 4, 5, 6, 7, 8, 9, 10

---
Permissions in this forum:
You
cannot
reply to topics in this forum