+2
Thinkforyourself
lizardking
6 posters
Page 2 of 2 •
1, 2
NYT Insists Libya Weapons Looted, Sent to Syria, Africa
http://www.infowars.com/nyt-insists-libya-weapons-looted-sent-to-syria-africa/
Left out of the reportage: the CIA and MI6 transferred Libyan weapons
The New York Times has continued its role as the progenitor of propaganda for the state and its endless wars and interventions.
It did a bang up job during the invasion of Iraq when crack propagandist Judith Miller pawned off several neocon fantasies, most notably the claim Iraq was pursuing nuclear weapons. This Miller fable was used by Condoleezza Rice, Colin Powell, and Donald Rumsfeld to peddle the invasion. Miller also trotted out the fairy tale Saddam Hussein had chemical weapons. She characterized this lie as a "smoking gun" that made the invasion possible.
In an article underscoring the supposed urgency of a new intervention in Libya by the United States, the Times includes the following infographic: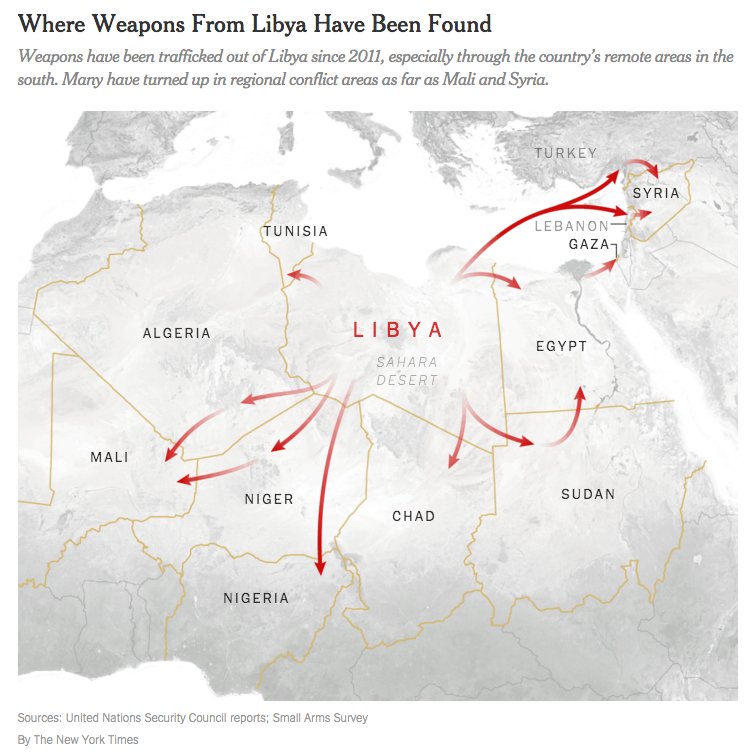 The Times would have us believe weapons in Libya were "looted" and sold to Islamists in Syria and Mali.
First, many of these weapons were given to the "rebels" in Libya by NATO and the United States, an effort overseen by then Secretary of State Hillary Clinton. This was confirmed by US intelligence in 2015. Other weapons purportedly came from Gaddafi's arsenals.
"NATO has given permission to a number of weapons-loaded aircraft to land at Benghazi airport and some Tunisian airports," an intelligence report states, according to a report published by The Washington Times. The weapons cache included tanks and surface-to-air missiles.
The Times also ignores the fact these weapons were funneled by a CIA "rat line" from Libya via southern Turkey and across the Syrian border to Gulf Emirate and Turkish supported proxies fighting to overthrow the government of Bashar al-Assad. Turkey continues to use this route to arm jihadists in Syria.
"A highly classified annex to the report, not made public, described a secret agreement reached in early 2012 between the Obama and Erdoğan administrations. It pertained to the rat line. By the terms of the agreement, funding came from Turkey, as well as Saudi Arabia and Qatar; the CIA, with the support of MI6, was responsible for getting arms from Gaddafi's arsenals into Syria," Seymour Hersh wrote for the London Review of Books on April 17, 2014.
The weapons controlled by the CIA and MI6 were also transferred to countries in West Africa and the Horn of Africa. "Illicit flows from the country are fueling existing conflicts in Africa and the Levant and enriching the arsenals of a range of non-state actors, including terrorist groups," a UN Security Council report noted in April 2013.
The official narrative, pushed by the Council on Foreign Relations and the establishment, is that the war in Libya "unwittingly contributed to a security vacuum that allowed countless weapons to stream out of Libya and fuel insurgency, extremism, and crime in neighboring countries."
An investigation conducted by The Small Arms Survey and Conflict Armament Research found that "fighters in Mali made extensive use of weapons originally from Libyan arsenals" following the downfall and murder of Muammar Gaddafi.
The influx of weapons in Mali resulted in the destabilization of that country's government and turf wars between Islamist groups, principally Ansar Dine and the Movement for Oneness and Jihad in West Africa. In response France launched Operation Serval and intervened directly in Africa, thus providing a pretext by the European Union and Germany for military involvement in Africa.
In August 2013 Phil Greaves wrote

an extensive UN report from the Security Council group of experts, from April 2013, also highlights the rife lawless proliferation of arms throughout Libya, and seeping beyond its borders. The report stated that arms were fueling conflicts from Syria to Mali, and arms were spreading from Libya at an "alarming rate". Qatar and the United Arab Emirates were singled out in the UN report for blatant violations of the arms embargo during the 2011 "uprising" against Gaddafi; the report revealed that multiple Qatari arms shipments had been allowed to flow into Libya with the full knowledge and acquiescence of NATO–in much the same way they have been allowed to flow into Turkey from Qatar, with Syria being the final destination.
The objective is obvious: weapons sent to Libya and subsequently "looted" from its arsenal are being used to fuel further terrorism and conflict by terror groups largely manufactured by intelligence agencies.

The game plan is to destabilize the Middle East and Africa as part of a larger order out of chaos agenda. In resource rich Africa the United States hopes to displace China and other competitors and establish military bases under the umbrella of Africom. Endless terror will be required to secure a foothold there.
Meanwhile it is up to The New York Times to sell us new and increasingly absurd rationales for never ending war and conflict.

lizardking




Posts

: 1673


Points

: 6468


Reputation

: 2603


Join date

: 2015-12-30


Age

: 27


Location

: United Kingdom



lizardking wrote:
Meanwhile it is up to The New York Times to sell us new and increasingly absurd rationales for never ending war and conflict.
  How did you think they were gonna sell more papers? New photos of Spiderman?!?
  ISIS is just a dollar sign. (Squeeze it all together =$)

Tamela Shreya




Posts

: 3


Points

: 1738


Reputation

: 0


Join date

: 2017-01-21



Until at least 2002, ISIS was Israeli Secret Intelligence Service.

http://www.haaretz.com/print-edition/features/the-cult-of-isis-1.41131



Skywalker




Posts

: 94


Points

: 2182


Reputation

: 111


Join date

: 2016-05-20


Location

: Scotland



And let's not forget that another reason for destabilising the Middle East is the "Kalergi Plan" AKA The European Union.

Skywalker




Posts

: 94


Points

: 2182


Reputation

: 111


Join date

: 2016-05-20


Location

: Scotland



Want some more ISIS comedy? Well the scum behind our media just can't help but slip a little of the moon goddess in there from time to time...
Anyone watch UK propaganda-opera "Coronation Street"? Look at the phone number for the taxi company in that show. Notice the last four digits? ISIS.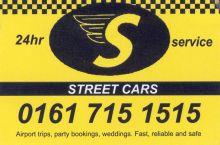 What do you get when you add up all the digits in the above phone number? 33 of course.
What about "Islamic State" in Chaldean numerology? 33 again. Coincidence? No way.
What a complete and utter joke the "terror group" ISIS is. I mean, come on... would a bunch of fundamental Wahhabi Salafists really name themselves after the Egyptian Pagan Moon Goddess? Aren't these the same guys allegedly blowing up Pagan temples and smashing up Pagan statues? Didn't they threaten to destroy the Egyptian Pyramids for cryin' out loud!?
The irony is simply wasted on the masses who just see ISIS, ISIS, ISIS all over the news, week in, week out, and don't stop to think.
Who is obsessed with the Moon Goddess? Islamic Extremists? Or our elite masters?

Skywalker




Posts

: 94


Points

: 2182


Reputation

: 111


Join date

: 2016-05-20


Location

: Scotland



Thanks Skywalker, I love it!

I also noticed that the last 6 numbers (15)(15)(15) = 666! - Just a co-incidence, nothing to worry about, move along please!

As you say...... "Who is obsessed with the Moon Goddess? Islamic Extremists? Or our elite masters?" - and what are "the elite" obsessed with? hmmm


Mistery




Posts

: 5


Points

: 1775


Reputation

: 3


Join date

: 2016-12-18


Age

: 67


Location

: UK



Well spotted. I hadn't noticed the 666 hidden in there as well!

This is an absolute must watch for more insight on who ISIS really is. You only have to watch for about 40 seconds, I've set it to start at the interesting part:

https://youtu.be/uWgfZDEtDT0?t=134

MI6 is of course known as SIS (Security Intelligence Service). And we've got the ISS, and IIS (Institute of International Studies, Internet Information Systems), The Dollar sign, etc. All could be plays on ISIS.

Skywalker




Posts

: 94


Points

: 2182


Reputation

: 111


Join date

: 2016-05-20


Location

: Scotland



ISIS is a US-Israeli Creation: Indication #10: ISIS is an Acronym for Mossad. [The Israeli Secret Intelligence Service. Interesting Coincidence]

Mistery




Posts

: 5


Points

: 1775


Reputation

: 3


Join date

: 2016-12-18


Age

: 67


Location

: UK



Mistery wrote: ISIS is an Acronym for Mossad. [The Israeli Secret Intelligence Service. Interesting Coincidence]
Yes "ISIS" is on Mossad official site,coincidence or not :

Artemis




Posts

: 56


Points

: 1876


Reputation

: 116


Join date

: 2017-02-17



Thanks Artemis!
I prefer to call mossad ISIS because moss reminds me of an unwanted growth on my lawn.The only problem with doing that is that it sometimes annoys people when I tell them that ISIS and USA are working in total co-operation with each other, as stated by both bibi and donny recently in the jewish virtual library no less :

http://www.jewishvirtuallibrary.org/about-aice


Mistery




Posts

: 5


Points

: 1775


Reputation

: 3


Join date

: 2016-12-18


Age

: 67


Location

: UK



ISIS is not only terrorist organisation created by jews.

I have many books and have studied history of jewish secret services,
 and if you know the past you can know that they use same modus operandi.

Jews physically took over Palestine by terrorist attacks.
They saw that terrorism work good.
(Goal can be really Greater Israel. )

Official data are that jews created on Palestine territory
first intelligence sevice HASHOMER , 1909 , all coordinated with political influence in Great Britain( had mandate over Palestine) .


After that is created HAGANA B , jewish terrorist organisation,(which later became the core of today -Israel Defense Forces.)


Another created terrorist organisation was IRGUN ZWEI LEUMI, to fight against Arabs.
That organisation was responsible for hundreds of bombings , and for famouse  King David Hotel bombing.
(91 people, most civilians and Arabs, were killed and 46 injured.)
(All under British Mandate for Palestine.)

http://www.timesofisrael.com/author-compares-pre-state-jewish-terrorists-with-hamas/

Rich jewsih bankars funded all this.

Another jewish terrorist organisation created in same time,  was LEHI created by  Avraham ("Yair") Stern in Mandatory Palestine.

Jews called all that liberation organisation.

All that terrorism was used to create state of Israel.
So jews have large experience in using terrorism, and not only in middle east.
-----------------------------------------------------------------------------------
Use only info about terrorist attaks from this video:
https://www.youtube.com/watch?v=mK3a-fueoeI



Artemis




Posts

: 56


Points

: 1876


Reputation

: 116


Join date

: 2017-02-17



Page 2 of 2 •
1, 2
---
Permissions in this forum:
You
cannot
reply to topics in this forum