Page 6 of 6 •

1, 2, 3, 4, 5, 6

Is Hitler's supposed autobiography 'Mein Kampf' something that I can use to uncover the mystery surrounding Nazi Germany or is it something that's polluted by the Jewish lobbyists to decieve us?



Posts

: 7


Points

: 355


Reputation

: 1


Join date

: 2017-04-11



Well Mein Kampf is translated to "my struggle". I haven't read the entire book yet, but it seems more geared towards how he ended up in prison for political reasons and his view of what Germany could be. It was written in 1926, way before the war. The lies about Hitler, mostly stem from the war itself, and some from a few years prior. Eric's documentary last year got me to look into his book. Nazi is a derogatory term used by the winners of war to demonize them. Hitler's Germany, was a free Germany where its people would prosper from the resources and riches of the country, and not the bankers.



Posts

: 78


Points

: 566


Reputation

: 114


Join date

: 2017-03-23


Age

: 60


Location

: Ontario Canada



And what about Hitler's strong opposition to Capitalism? Which eco-political system do you guys think would be best for any given country for the well-being of its people? I've heard people say Capitalism is the best eco-political system of our civilization ever, which are decreased poverty substantially in many countries like China and India. They strongly oppose Socialism and say that it is a flawed system and so is Communism. So what was Hitler's solution to all the various economic problems like recession and inflation and poverty and inequality to developmental opportunities? And do you think his eco-political system would be feasible in this era and would it be capable enough to eradicate poverty from the face of the Earth? And why is Capitalism bad?



Posts

: 7


Points

: 355


Reputation

: 1


Join date

: 2017-04-11



Capitalism is bad because it requires unsustainable growth and puts heavy emphasis on profits. Year after year, a corporation has to make more than the previous year. It has to beat its competitors so there are winners and losers. Losers usually end up going bankrupt or reducing their workforce which means unemployment. However, there are problems for the winner as well. Once you saturate the market with your goods or services, you need to constantly come up with new ideas. Notice the smartphone and car companies that push out new models every year? They need consumers to buy their products/services perpetually. With very smart marketing and planned obsolescence, they are able to draw their customers in and make them buy even though they most likely don't NEED to.

Then you have the concept of "free trade". It's free only to the large corporations. They take advantage of the cheap labor in other countries so their profit margin increases. This means shipping jobs to overseas which again, leads to unemployment at home. This may create jobs for those countries but they are working in horrendous conditions and possibly working long hours 7 days a week.

I'm not sure what Hitler's solution or his system was but I think small, local business is the way to go. But before that, the VERY VERY VERY important thing to do that would solve a lot of problems overnight would be to end the practice of borrowing money into existence. That will solve everything you listed. Sadly, this will not happen in our lifetime because the people behind the scenes want to keep us under their control forever. Hitler was one of the few who stood up and fought for his people.



Posts

: 7


Points

: 412


Reputation

: 7


Join date

: 2017-02-19



https://youtu.be/xHht8480cEo

Disgusting propaganda and conditioning



Posts

: 17


Points

: 610


Reputation

: 13


Join date

: 2016-08-21



My epiphany with the Jewish problem occurred at a very young age. I know, as soon as we enter history class as a child, we begin to hear, on a daily basis, how 6 million Jews were killed in concentration camps. Videos of dead bodies getting shoved into ditches started in middle school, then continued into High School. I became so fed up and sick of seeing those videos. As a matter of fact, I simply thought history class was worthless, and way too easy for me, and decided to sleep through these videos at one point. How many times does a guy have to go to a supposed "class" where you are supposed to learn something, but instead just told the same thing over and over again: "Hitler was the most evil man that ever lived and he killed 6 million Jews!"? - "Watch this video of dead bodies getting bulldozed now!"

My teacher used to get pissed off at me for never taking notes, and dozing off in her class. First off, I am not a morning person. Secondly, I had Algebra and Chemistry before her class; subjects that required paying attention to learn something new. Thirdly, I am extremely acute with literature, and she can make all of her key points, notes, and overhead projector presentations she wanted, but I knew, ultimately, the test is based on the damn book we are reading that was created by the government. l needed nap time. I could just read and memorize that shit the day before the test and always ace them. The Jew thing was just getting on my nerves because it made absolutely no sense to me.

Mind you, this is the same teacher that kicked me out of her class for sleeping in it. When she spoke with me about why she kicked me out of her class at the end of the period, she said it was "Because I was setting a bad example for the other classmates by sleeping in the class."

I told her to look at her "ranking" of students on her wall. They were all listed, hundreds, from every class throughout the day, and I was number one. So I told her, "Am I setting a bad example, or is your system setting a bad example?" - She was at a loss of words.

Regardless, the countless Jew videos continued. The countless Hitler bashing continued, interrupting my well deserved nap everyday. Finally, she is with her overhead projector, talking about "6 million Jews died, Ellie Wiesel is visiting our high school to talk about it," Blah Blah Blah....and I just had to stop it right there.

I said to her, "What really is the difference between killing one person, and six million? It is the same thing, killing is killing? Why are we taking a tally of this? Is it a competition or something? Also, Why would Hitler do this in the first place? Why is it being shoved in our faces every day, non stop, for years, as children? If this did take place, would it have take place for no reason at all? What the hell were the Jews doing that caused this to supposedly happen? Most of all, WHY ARE YOU SHOWING US DEAD BODIES OF PEOPLE PUSHED BY BULLDOZERS INTO PITS?"

She said, "So it doesn't happen again."

I said, "Look, if there is really a crazy guy out there that wants to kill people in masses and push their dead bodies into pits, the worst thing you can do is show him videos about how to do it as a kid. That doesn't help the problem, it makes it worse!"

Naturally, I was kicked out of class again with that comment.

I love this forum.




Posts

: 22


Points

: 151


Reputation

: 19


Join date

: 2017-12-08



Thanks for sharing that interesting and humorous story and welcome to the forum!
Admin




Posts

: 998


Points

: 4731


Reputation

: 2749


Join date

: 2015-12-30



ForeverThePhilosopher wrote:
My epiphany with the Jewish problem occurred at a very young age
we enter history class
we begin to hear how 6 million Jews were killed in concentration camps
Videos of dead bodies started in middle school then continued into High School
I simply thought history class was worthless

the damn book we are reading was created by the government

I love this forum
Great story, it shows specifically how the children are indoctrinated through the educational
system.
Welcome to the forum.



Posts

: 686


Points

: 2790


Reputation

: 1264


Join date

: 2015-12-30



Thanks! I have always been that guy that questions things, and got into way to much trouble for doing so. Life is kind of funny like that. You can question things as a child, but, if you continue to do so as an adult, people accuse you of never "growing up." When I look at jack asses that have supposedly "grown up," yet lost their wonder of the world, I either want to throw up or go to sleep. Honestly, I don't know if this Earth is flat or round, Eric really got me to start thinking about it deeply, intensely, in a way that people don't even want to speak to me when I approach the subject matter.

It happens to all of us. I just don't know why there isn't any kind of looking into it. It is just accepted as fact, as truth. Jews were the so called "tortured" people of all the world, but somehow, they control all of it right now. This makes no sense to me at all. When we look at other proofs that are supposedly "science," I become more skeptic. A real "scientist" actually measures shit on his own accord and figures things out, not just trusts what he is told. This is my fundamental truth regarding science, as it must be tried and true. The explanations regarding the nature of your universe seem to be the result of people that were paid way too much money to question anything.
Last edited by ForeverThePhilosopher on Fri Dec 15, 2017 5:49 am; edited 1 time in total (Reason for editing : Addressed the wrong person in the post)



Posts

: 22


Points

: 151


Reputation

: 19


Join date

: 2017-12-08



Admin




Posts

: 998


Points

: 4731


Reputation

: 2749


Join date

: 2015-12-30



got another ban/restriction off youtube for * hate speech *  this morning.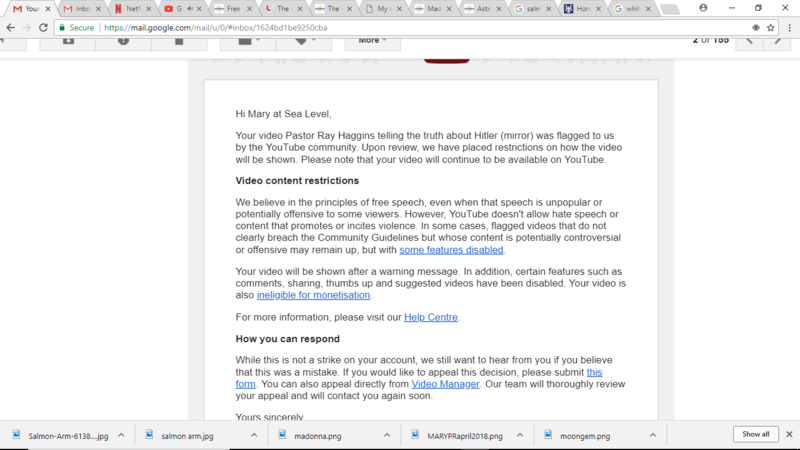 Thats my 2nd on youtube. but its ok, truly.
I have another youtube account ready.
And proudly, my last facebook has been permanently banned and disabled for sharing the truth!
RIP mary helene moon

Heres how i feel about it all: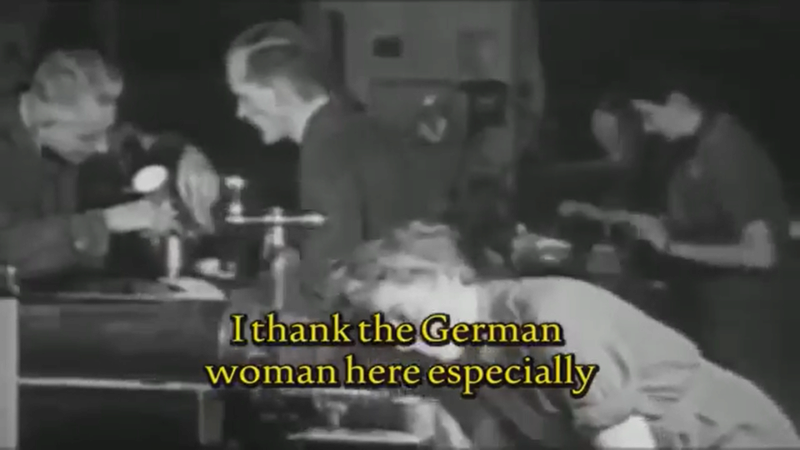 you're welcome!!!!
Im sorry I was so stupid for so long and didnt even listen to my own german family
:'( this is least I can do, make sure some others hear the truth as well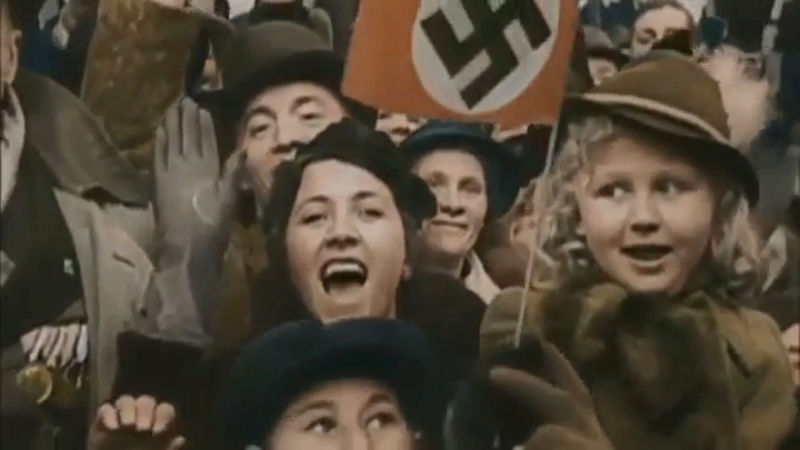 Posts

: 111


Points

: 1019


Reputation

: 102


Join date

: 2016-01-16


Age

: 41


Location

: nova scotia



Page 6 of 6 •

1, 2, 3, 4, 5, 6

---
Permissions in this forum:
You
cannot
reply to topics in this forum