Page 5 of 5 •

1, 2, 3, 4, 5
wakemeupinside wrote:These days I've been hearing alot about the mystery of Immortality and how by cryogenics, cloning organs, avoiding cellular damage, repairing the human body at a molecular level and increasing the size of telomeres ( telomeres are regions of a nucleotide that protects the chromosome) we can achieve biological immortality... Is that even possible or is it bullshit just like space and heliocentrism? There's so much news these days like man would be immortal by 2050 or something with the help of Nanotechnology or by becoming a cyborg or something... Do you guys think humans could ever become immortal or is this all bullshit?
This is all about the transhumanism agenda. The elite want to dumb down and weaken the population, so that they will feel lesser and in need of supplements / modifications to be better. The end result being cyborg sheeple that are bigger, stronger and faster with the aid of machines and chemicals, while also being more dumb and more dependent. All of the microscopic robots in a human body that I have seen are all CGI so far, which has this sit on the shelf next to spaceballs for me.



Posts

: 44


Points

: 365


Reputation

: 32


Join date

: 2016-08-13


Location

: California



I used to think that only man would perceive himself being at the centre of the universe because he was so conceited with himself and that god would have made it so.

How could I have thought along those lines? I truely believed that, from my own derision. How delusional I was to think man was so conceited and self centred!

Obviously, having gone through the british education system. Whilst at school I used to sing (voluntarily) in a church choir, I loved everything about it singing my heart out. I was right into everything to do with the church I put me in good stead. I still look back with fond memories. I sort of changed at 14 years of age when I used to play football for a local junior team and we had an important cup game on a Sunday morning, I went ahead and played (we won too ) But arriving for the evening service I was acosted by one of the church wardens for not attending the morning service. It was only one service I thought no big deal, but the lady stood there and dressed me down as if I was a blasphemer for thinking it would be alright??
Then I got to thinking what Jesus would think, I thought he would have given me a leave pass for he would know how my heart was in conflict about not letting anyone down, got me thinking about how unchristian this woman was. Then I started to question everything...I mean everything and turned to science lol for answers.

Now I've gone full swing again, but this time I have some life experience and am able to listen more effectively and perhaps ask astutely.

Cheers,

Chris.



Posts

: 6


Points

: 62


Reputation

: 5


Join date

: 2017-04-14


Age

: 53



" W0nderboy20 minutes agoHighlighted reply
liam henderson and yet you work on the "faith" that some sentient being has designed you and pass everything else of as a conspiracy of the Freemasons, a group of bricklayers and plumbers with a secret handshake. "

Freemasons are a group of bricklayers and plummers? you have just completely exposed yourself, you're either a complete disinformation shill paid to spout propaganda or you're the most ignorant person I've spoken to over the internet, and that is some feat.

Freemasons are a group of bricklayers and plummers, and we came from a rock, fish, that learned to breathe.

That is what mainstream science tells us in a nutshell.

We have a purpose, we're not random, organised religion seeks to rob us of that purpose, as does science, convincing humanity we are a cosmic blip makes us easy to control, easy to brainwash. You're taught (brainwashed) through school that your senses are lying to you. That the earth is actually moving around the sun, that our eyes are lying.

Empirical evidence DESTROYS the heliocentric model.

Water = flat at rest.

earth is sphere with oceans curving around it.

Water = flat at rest

earth is sphere with oceans curving around it.

Do you not see the contradiction? one we can observe every single day, the other we have to depend on theoretical math and trust in known liars, and you want me to think I'm crazy for dis-believing known liars?

It's not my fault you can't understand that any industry on this plane can be monopolised, that includes your esteemed education/science'

Flat earth is destroying your heliocentric-ism, and it feels good. The sun worshippers model is becoming an increasing laughing stock. And that feels good, so good.



Posts

: 15


Points

: 61


Reputation

: 19


Join date

: 2017-05-02



I'm quite shocked at the amount of fake accounts out there promoting globe propaganda and ridiculing flat-earthers, not that they need any fake accounts to do that with plenty of real people frothing at the mouth for us daring to question known liars, yet the unwillingness to even look up what we say, to have a better informed discussion, that speaks volumes, that tells me they aren't real, or are human but brainwashed to an extreme, almost AI like.

This one literally used my own argument against me, I told him to research the flat-earth model before he throws hundreds of questions at flat-earthers, ridiculing them, I told him that it is ignorant to condemn something without investigating it, he literally turned around and said "you haven't even studied the opposite argument"

I then explained how I have studied the opposite argument, that I tried to debunk flat-earth, as we all did.

"W0nderboy19 minutes ago
liam henderson I also think the sheer volume of rational people arguing against you is further evidence of your delusions"

They appeal to popularity all the time, a fallacy in itself. Being able to 'like' comments is a way of stifling debate, because humans don't want to be seen as outside of the box, they will accept and respect the opinion of the comment with the most likes, if they haven't done the research, people will unfortunately believe the most popular opinion, we're a race of sheep.

Ps, i'm sorry if this is irrelevant to the topic, is there a place I can discuss the above kind of comments? maybe off-topic? could it be moved? I realise you want this place to be as factual as possible, my bad.



Posts

: 15


Points

: 61


Reputation

: 19


Join date

: 2017-05-02



Blackpool Tower with an Isle of Man backdrop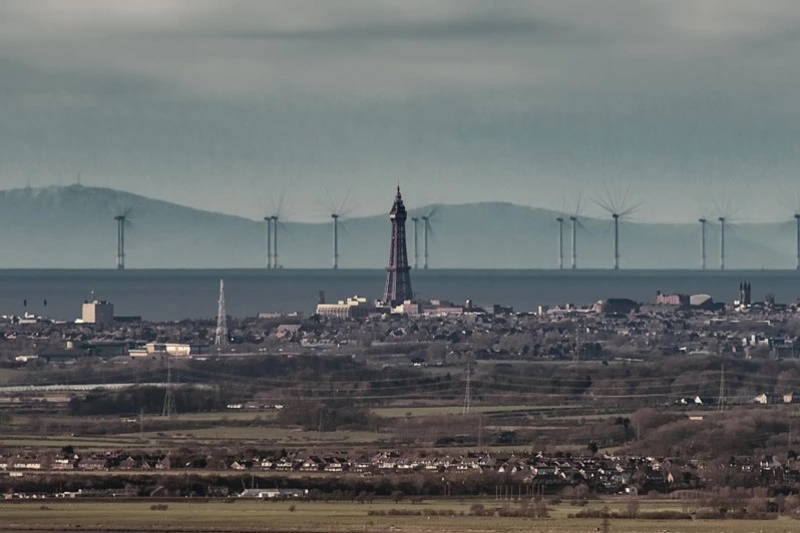 Winter hill -> Blackpool Tower -> Isle of Man, seen 90 miles away
Note: on the Ball Earth, curving 8 inches per mile squared, the Isle of Man should not be visible.
Anthony Riley, replicating the observation.



Posts

: 399


Points

: 1836


Reputation

: 899


Join date

: 2015-12-30



Why isn't there evidence of hump (curve) in this video?
The turbines are 4.5 miles from camera.
by Anthony Riley

Because Perspective cannot be denied, but it has been used to fake curve.





Posts

: 399


Points

: 1836


Reputation

: 899


Join date

: 2015-12-30



Page 5 of 5 •

1, 2, 3, 4, 5
---
Permissions in this forum:
You
cannot
reply to topics in this forum