Following Max Igan's lead, now Thomas Sheridan is soooo off-put by "troofers" figuring out the flat Earth that he's giving up and saying farewell! Lol, these shills are too much

Is Thomas Sheridan a Psychopath?
http://the-real-thomas-sheridan.blogspot.com/2012/08/is-thomas-sheridan-psychopath.html
From Internet Troll to Psychopathy Expert
http://www.sott.net/article/249840-From-Internet-Troll-to-Psychopathy-Expert-The-Con-Artistry-of-Thomas-Sheridan
Post by schpankme on Apr 20, 2015 at 9:52pm
Some people claim to have Coulrophobia, or the fear of clowns. I'm not one of them!
Thomas Sheridan
Post by dex on Apr 20, 2015 at 11:44pm

What the hell is Sheridan even going on about chemtrails proving a round earth? That, and name-calling are the best proofs he can come up with in a 12 minute video? And to think I was once taken in by this charlatan..
Post by mitch on Apr 21, 2015 at 12:38am

jeez what a drunkenly, deranged tantrum by sheridan in the farewell vid, surprised he managed to refrain from issuing death threats against the "trooters" as he staggered grasping shells
And the latest shillery from Thomas, claiming that I am a "Lee Harvey Oswald" who will be used as a patsy to somehow link Flat Earth to Terrorism:
His poor attempt at "humor" ridiculing flat Earth:
Notice the one eye on his YouTube Profile picture, just like Max Igan, Mark Knight, Persian Woman Speaks, and many other shills: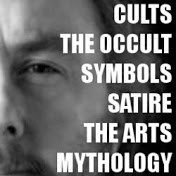 My post on Facebook (Terrestrial Jones):
Thomas Sheridan the self righteous zealot returns to bash FE once again! Eric and the IFERS team have exposed him for being a shill over a year ago.
It's becoming obvious now that Thomas is deceiving his followers by framing us as sadistic, middle-aged, anti intellectual failures. This is the typical modus operandi of a shill (i.e., to slander genuine FE'ers and behave self righteous).
The three types of shills all use this tactic albeit with varying tones. The mainstream overt shills like Neil deGrasse bash us using satire. They argue against a few proofs using their guile and keep the sheeple entertained.
The alternative media overt shills like Thomas Sheridan bash us with impunity and lead their slaves seemingly with an iron fist. A case of Stockholm syndrome in my opinion.
The alternative media covert shills like Mark Sargent are the most slimy snakes. They are the real wolves in sheep's clothing. They overtly pretend to be one of us but plot in secret to derail our forward progress. They mix truth with conjecture to muddy the waters and make FE sound ridiculous. Using their limited hangout shows/events they create drama within the movement to keep us distracted/divided. Meanwhile, we are being portrayed to the masses as paranoid/hateful people.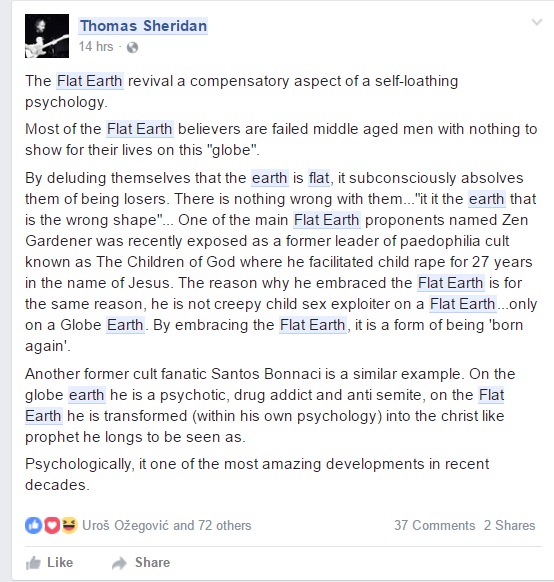 Posts

: 6


Points

: 235


Reputation

: 12


Join date

: 2016-08-18



---
Permissions in this forum:
You
cannot
reply to topics in this forum