Page 15 of 15 •

1 ... 9 ... 13, 14, 15
WARNING - Material from CONTROLED OPPOSITION:
Under this video we can find comments of well known flat-earthers (shills):
- ODD (commenting: "Nice one, Karlee. Excellent job on the visuals")
- Nathan Oakley
- Patricia and (not) That Hot Potatoes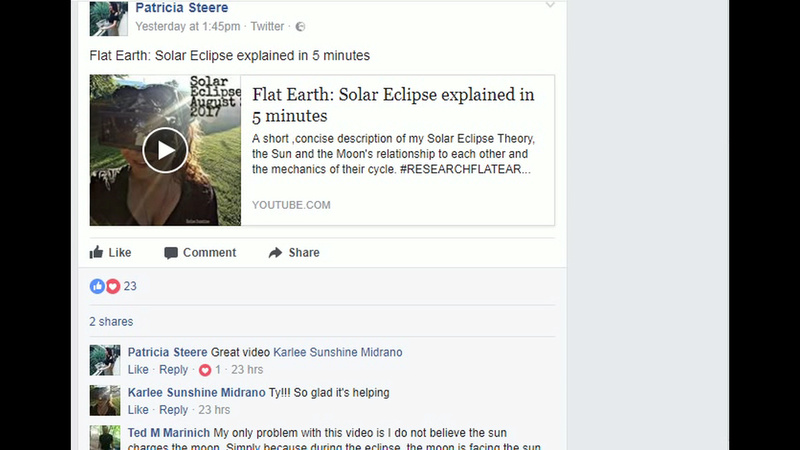 All of them accept this presentation as correct, BUT this animation is TOTALY INCORECT. This presentation doesn't match with observed reality as we can see that Moon moves aproximtly the same way like Sun, making a circle above flat earth in 24h 50min, as Sun is making it in 24h. From our every day experience we know that Moon is just a bit slower then Sun and becouse of that this presentation is definetly incorect.
What we have here is CONTROLED OPPOSITION promoting bull-shit video via social media to confuse reaserchers and fill duty as gatekeepers.



Posts

: 21


Points

: 431


Reputation

: 20


Join date

: 2016-08-27


Age

: 32


Location

: Poland



From FE Linney:

Shills do NOT help this movement, they spread disinformation, half-truths, confuse people, present speculation as fact, and try to do whatever they can to try to make finding real, genuine, legitimate, verifiable and honest information as difficult as possible.

*Mark Sargent: "The moon is a holographic projection, gravity is just molecular magnetism, you know from a video game design standpoint..BUT, you know whatever, Patricia Steere is great and so is Orphan Red, we made a private video. BUT you can't see it."

*Darren Nesbit: " The Earth is a square, with four corners and the sun and moon warp into portals. Try to debate me and I will block you."

*Infinite Plane Society: "I'm an ex Freemason of the 32nd degree, help me promote FE by spamming people's YouTube chats with a super chat donation of $6.66, if that doesn't work we can always use a penguin meme and make flat Earth appear even more like a joke"

*Jeranism: "I went to an all boys Jesuit run school, I don't encourage activism as it isn't my job, but please find the PayPal link on my channel and go fund me."

*Math Powerland: "Oh my god, the chemtrails in my air vents are telling me that people are triangulating against me, the Zionists should run the FE movement and buy my T-shirt after you watch me attempt to sing about nothing on my channel, if that fails you can always check out my gay pornos on YouTube: just search "Hostel Hookup Mathew Boylant"

*Patricia Steere: " Welcome to Flat Earth and other hot potatoes, where we sit here for 2½ hours and promote what wine I'm drinking or what designer shirt I'm wearing, find me on Instagram where I post nothing FE related at all. My mother is a Jew, but I'm not."

*Karlee Sunshine: "I don't know why people are being so mean about Fepe, and if you ask me if I support Freemasons I will tell you to tread lightly and you'll be sorry, because I like to threaten people with violence, so full of sunshine"

*Jake Gibson (FE Asshole): "Please donate to me so I can travel around and interview people wearing Illuminati t-shirts, call you my fan and if you talk about Zionism you are a Nazi"

*ODD TV/Reality: "I'm a sex offender, I used to call shills out with Eric Dubay but after being invited to the FEIC, I've decided they are all great and I swear I'm not getting paid a dime" ODD Hypocrisy

*Quasiluminous: "Just cut yourself and put your blood on this paper and we can all cross the frost bridge and magically travel to the North Pole Shamballah in 2019."

*Cami: "The Earth is a diamond shape, because I said so, there are 3 poles, my pole, Bob's pole and the North Pole. I even made my new map rainbow colored for you."

Admin




Posts

: 733


Points

: 3641


Reputation

: 2113


Join date

: 2015-12-30



*Darryle Marble: "I mysteriously made the Israeli news, accidentally ran over and killed my ex-girlfriend, and don't you just love the blue marble reference in my name? I also go on Pat Steere's show, because shills of a feather flock together."

*Paul Michael Bales: " Helllllllllooooooo there! I am the Morpheus to Eric's Neo. I like to lie compulsively and sit in a bathrobe while I claim to have started the FE movement."

*Speakers at the FEIC 2017:
Robbie Davidson, Morgile (GlobeBuaters), plus the above mentioned, all charging you $249 for a VIP pass to go behind the scenes of this convention to be told the earth is flat, oh and our conference is being held at a hotel in a room that features a shrine of globes sitting upon pillars...and you can view it online too, but not for free!
Admin




Posts

: 733


Points

: 3641


Reputation

: 2113


Join date

: 2015-12-30



FEAOHP is "33" in Pythagorean gematria. Coincidence, or do these cretins go out of their way to insure such? I personally don't subscribe to the gematria thing, but it isn't what I believe, it's what
they
believe as they conduct warfare against the truth. What the heck is the whole spinning-ball-sun-at-center worldview paradigm if not what silly superstitious sun-worshipers believe and have forced upon mankind?!
I didn't discover the connection, btw; I just share what another fellow pointed out a few days ago. Take it for what it's worth.
http://gematrinator.com/calculator/index.php
Is it a coincidence that the Full and Single Reductions equal "33" each, and that the Reverse of each also totals "33"? But you can see how many different variations there are looking at those different classifications. That's why I don't subscribe to Zachary Hubbard's stuff  

Well-- that, and I lost money at the last Super Bowl he miscalled  

(read facetiousness)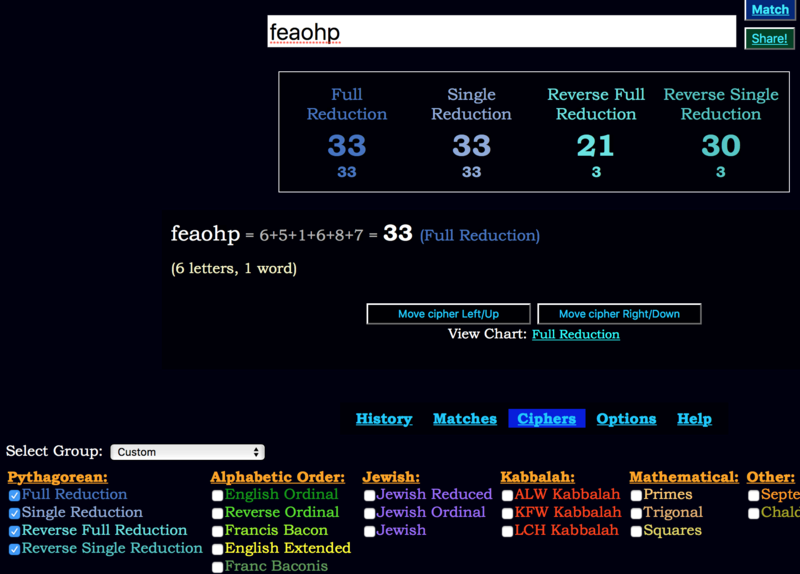 "At rest, however, in the middle of everything is the sun. For, in this most beautiful temple, who would place this lamp in another or better position than that from which it can light up the whole thing at the same time? For, the sun is not inappropriately called by some people the lantern of the universe, its mind by others, and its ruler by still others. The Thrice Greatest [Hermes, a Greek myth, the divinity of commerce, cunning, theft, travelers, and rascals] labels it a visible god, and Sophocles' Electra, the all-seeing.
Thus indeed, as though seated on a royal throne, the sun governs the family of planets revolving around it.
" —Nicolaus Copernicus
I just stumbled upon this show in which the "Steere" actor calls me out by name, at 1:34:45.



Juxtapose what she says in the above video (at 1:34:45) against her own words as she interviews "Croatia Girl" in the below interview extract (Sargent's daughter, who "thinks in English"). And keep in mind that you cannot see her Croatia Girl interview (show #49) because she has scrubbed it from her account!

And not only that, but when I started exposing them for the liars they are, she took the same #49 video down, and then put it back up again apparently not sure how to handle being exposed as frauds. And now it is no longer available, again, as her, Sargent, and their handlers, apparently believe the best damage control is to scrub the interview from history for good. The Ministry of Truth.




"Steere" says, "And so your Dad, Mark Sargent....," yet in the "Sargent" interview, the interviewer, and reading from the provided bio, says, "not being married, and with no children...."

The pregnant question remains; how does the actor playing the part of "Steere," interview the actor playing the part of "Sargent's daughter," when the actor playing the part of "Sargent" has no daughter!

The lies emanating from these mouths, while she dares call me out by name for exposing them, is just stupefying!

The Ringling Bros. Barnum, Bailey, Steere & Sargent Schtick Circus.
"False Flagger Patricia Steere," and her handlers, going about being bullies issuing fraudulent copyright strikes, and otherwise directing YouTube to pull down videos of sincere folks exposing them for what they are.


Seen a couple of his videos, one where he was " debating " with Jim Fetzer the idiot who quoted some ancient experiment but didn`t address the Bedford Levels experiment and say what he thought about that . I think it is a well genuine experiment and it was brought up by David Weiss as a good proof.

bill .



Posts

: 3


Points

: 34


Reputation

: 1


Join date

: 2017-08-23


Age

: 64


Location

: UK



Metabunk ran by Mick West The Government Agent
Got some good evidence that Mick West from Metabunk is clearly a major high up disinformation agent, it's pretty obvious since he debunks every single conspiracy on our plane, has no job and has a mansion. All red flags..
His curve calulcator doesn't even use his own shill math correctly, completely ignoring Snell's law. Not that anything bounces around the curve anyway, the only effects we observe are atmoplane magnification, superior mirages and heat or moisture distortion.
As you can see his entire curve calculator is pseduo-science, most sheeple are tricked by that horizon distance line and it also assumes every single photo is taken looking up...
Here's his response when asked about the pseduo-science of his calculator, he also deleted the post and banned the member who asked this
Bonus, i've made a few memes to spread awareness about this obvious agent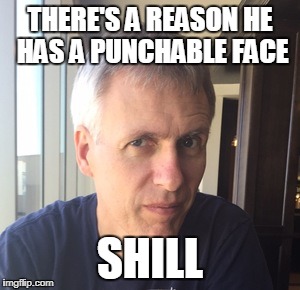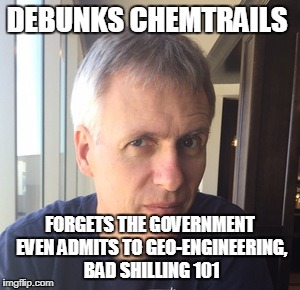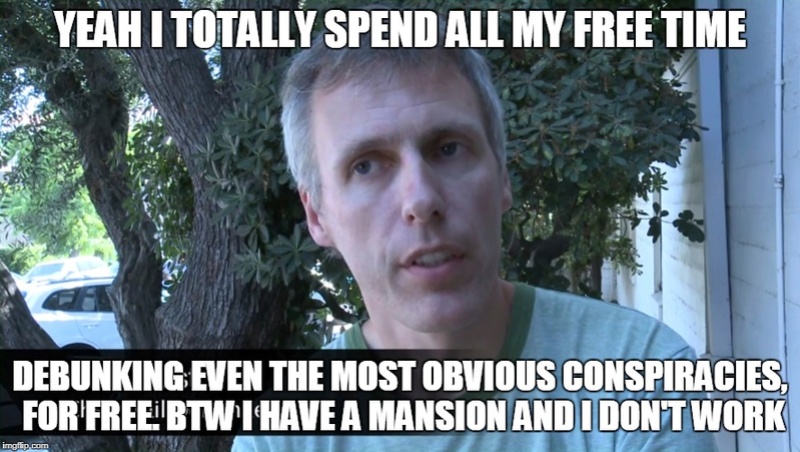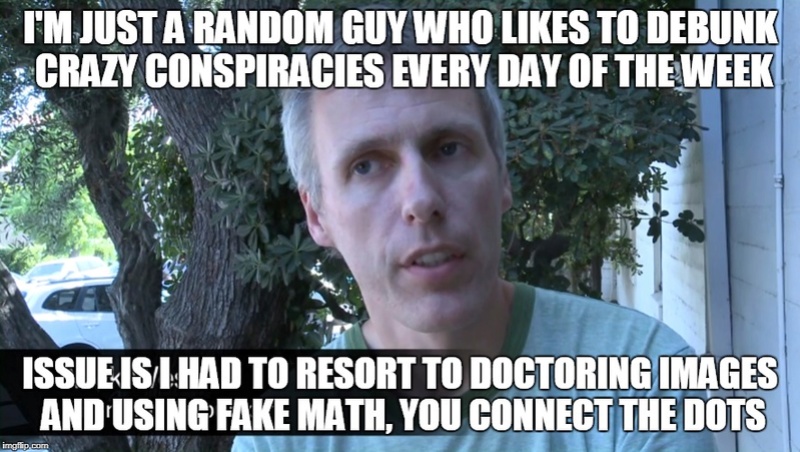 .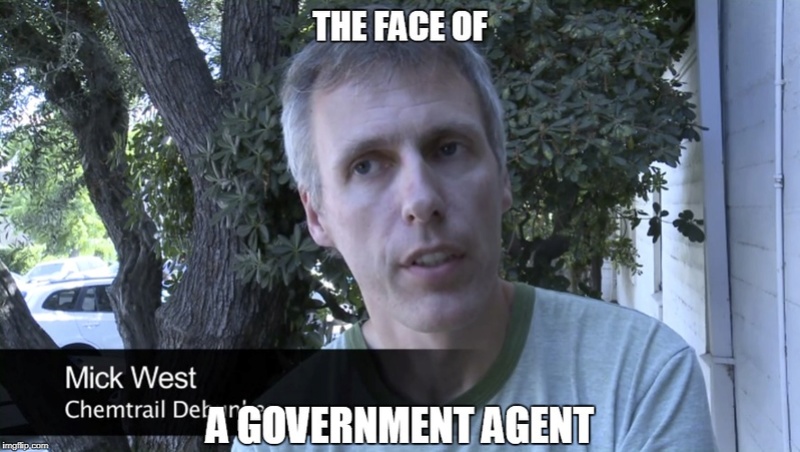 Posts

: 2


Points

: 9


Reputation

: 1


Join date

: 2017-09-14



ChangeTheWorld wrote:
Metabunk ran by Mick West The Government Agent

His curve calculator completely ignores Snell's law
It's very simple, Light does not bend, it can only change angles.  There is no Bendy Light, this is more magical nonsense created by Heliocentric Priests so they can see further around the Curve then is mathematically possible.  Using the Metabunk Calculator allows Heliocentric Priests to live on a Sphere that always looks flat.
Prisms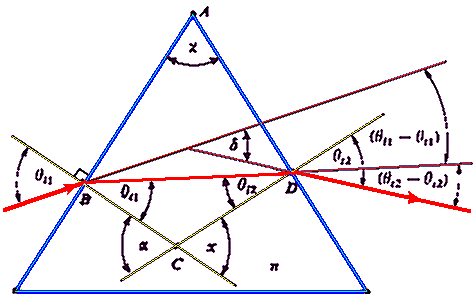 Optics (Convex Lens)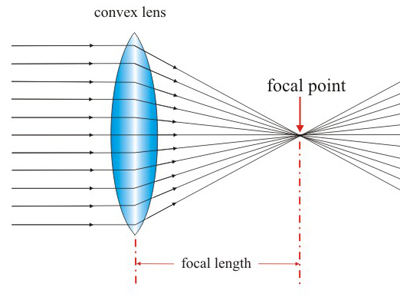 Fiber Optics use "mirrored core" to reflect the light signal down the length.
Patent US20100195678
Laser - Internal reflection through liquid medium
Patent US3810041
"The laser beam passes longitudinally through the liquid laser medium sheet
in an off-axial direction and undergoes multiple total internal reflections in its
passage therethrough."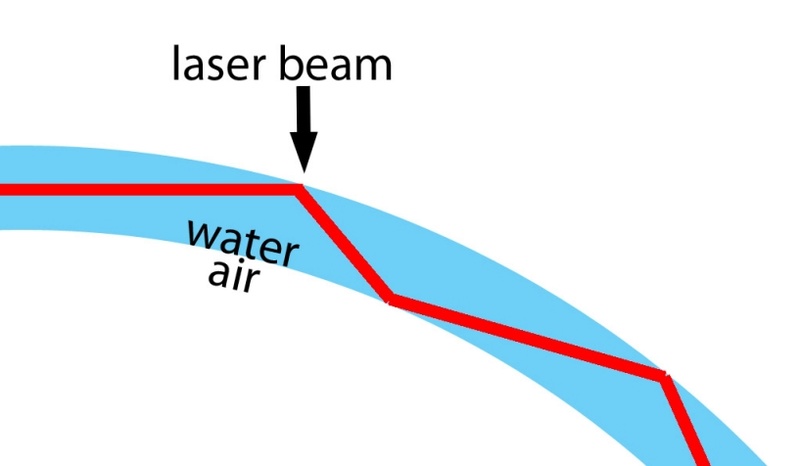 Posts

: 508


Points

: 2221


Reputation

: 1058


Join date

: 2015-12-30



Absolutely correct, of course, would I expect anything less from Schpankme.

Anyone who has worked with high-end 3D laser projection systems and ILDA software will tell you:
You can use the internal scanners inside the system to project anything in 3D, but it will always be from a single beam, and yes, you cannot actually bend the beam, light does not bend, unlike what the Heliocentric priests will tell you.




They even have to make-up black holes, so they can then 'claim' light does bend when entering them.
Lies built upon lies built upon lies, NASA, Einstein and his 'theories', quantum physics, all lies to perpetuate the Space & Globe lie





Posts

: 141


Points

: 667


Reputation

: 167


Join date

: 2016-10-12


Age

: 44


Location

: Certainly Not On A Globe



Thanks guys, i've passed this onto our flat earth reseach group. It'll help when people bring up this pseduo-science



Posts

: 2


Points

: 9


Reputation

: 1


Join date

: 2017-09-14



Page 15 of 15 •

1 ... 9 ... 13, 14, 15
---
Permissions in this forum:
You
cannot
reply to topics in this forum