Page 4 of 4 •

1, 2, 3, 4

I went to bittubers.com to watch that waykiwayki video and it was literally being downloaded from a Firebase server owned by Google. They don't use Disqus for comments on that website, though.

Seems like LBRY is the way to go?



Posts

: 22


Points

: 348


Reputation

: 9


Join date

: 2018-09-07




The Retail Industry Leaders Association (RILA), whose 200 member trade group account for more than $1.5 trillion in annual sales and millions of jobs, demands an investigation into "Amazon and Google" for manipulating search results that disadvantage brick and mortar retailers.  RILA sent a letter to the FTC on Sunday, asserting that "Amazon and Google" control the majority of all internet product searchers, can create an "information bottleneck" that has the ability to manipulate markets and bypass the traditional power of price competition.



zerohedge.com
by Ethan Cai via Campus Reform

The University of Chicago Medical Center collaborated with Google in hopes of identifying patterns in patient health records to help predict future medical issues.  Now, former patient, Matt Dinerstein, is taking action on behalf of the medical center's patients, alleging the university violated privacy laws by sharing sensitive health records without patient consent, with Google from 2009 to 2016 thereby aiding Google's goal of creating a digital health record-system.  

The suit alleges that the university deceived its patients by telling them that their medical records would be protected, but ultimately violated the Health Insurance Portability and Accountability Act (HIPAA), a federal law that ensures privacy and security for personal medical data. It also claims that UChicago violated state laws in Illinois that makes it illegal for companies to participate in dishonest client practices.

The complaint details Google's alleged two-part plan: obtain the Electronic Health Record (EHR) for every patient at the UChicago Medical Center; then use the information to create its own lucrative commercial EHR system.

ref:  www.zerohedge.com/news/2019-07-02/google-uchicago-sued-greatest-heist-patient-health-data-history


Comments from Bit Tube site

kcbrunette 3 days ago
#2... Same shit with hundreds of friends that I brought aboard Bit Tube. They wait until a person has almost $20 in tube earnings and claim the person is doing suspicious activity for just watching videos! I have been trying to tip you for several days but Bit Tube is scamming you out of the tip. This is far worse than youtube so get ready to get fucked again. Will there ever be a non-Jew running an honest website? I doubt it.
1 thumb_up Reply
user profile image

kcbrunette 4 days ago
Hi Eric. Well it looks like BitTube is another scam just like YouTube! I was gaining Tubes with BitTube and then for NO reason they claim "suspicious activity" and stopped paying air time for literally NOTHING. I cannot contact them by contact methods as the site claims as in the chat you only get a cartoon character that shows generic answers that answer "nothing". When emailing I get a generic email saying someone will respond within a few hours and now my emails are 3 days old with no human reply. Looks like BitTube has proven to be just another scam. Thought I would warn you. At least I can watch your videos for now. Keep up the educating of the masses, you are the most advanced Flat Earther out here in the video world!



Posts

: 199


Points

: 1277


Reputation

: 175


Join date

: 2017-01-25



The Secret Masonic Victory of World War Two Part 15
https://www.bitchute.com/video/jZPVL7BG2TAo/
Freemasonry is a Jewish weapon in service to the Jews and their plan for a New World Order - Hitler, in his own words, confirms this:
"To strengthen his political position he
[the Jew]
tries to tear down the racial and civil barriers which for a time continue to restrain him at every step. To this end he fights with all the tenacity innate in him for religious tolerance— and in Freemasonry, which has succumbed to him completely, he has an excellent instrument with which to fight for his aims and put them across. The governing circles and the higher strata of the political and economic bourgeoisie are brought into his
[the Jew's]
nets by the strings of Freemasonry, and never need to suspect what is happening." —Adolf Hitler, from
The Flat Earth Movement Album
, Eric Dubay,



Posts

: 263


Points

: 1360


Reputation

: 248


Join date

: 2017-03-31



markwilson wrote:
The Secret Masonic Victory of World War
This is the organizational structure that the German People were up against, called WWII.
JUDAEO-FREEMASONRY
ROMAN
HOLY ROMAN EMPIRE
VATICAN CITY
BOLSHEVIKS  
NAtional ZIonists
Haavara agreement
CITY OF LONDON
PALESTINE Jewish Colonization Association (PICA), formed 1923
James Armand de Rothschild
DISTRICT OF COLUMBIA
ISRAEL, formed 1967
markwilson wrote:
bitchute video
The Secret Masonic Victory of World War Two Part 15
Mark, this clown with his multi-part Bitchute videos, is promoting the Judaeo-Freemasonry Vatican (Jesuits) and their Christ-man, as victims of their own invention.
example:  The God of Heaven promoted by the Vatican (Catholicism) had a son, this circumcised J E W Savior, called Jesus Christ-man, wherein the J E Ws and Freemasonry are trying to destroy your religious freedumbs.
[quote="Schpankme"]
markwilson wrote:
Mark, this clown...
Agree wholeheartedly with that! His documentaries/postings are only as good as the actual historical information he brings forward exposing the Agenda of the Controllers, in my estimation (for example, the war criminals who prosecuted an immoral war against beautiful Germany and its people, including the eloquent statesman, Unser Seliger Adolf). We live in an age where it's hard to throw out the bath water without the baby being destroyed in people's minds (i.e., most invariably point to some "holy" book justifying their beliefs on salvation/after-life). I think most, if not all, flat earthers agree that it is all by Design, i.e., an Intelligent Designer-- yet many now know there is no for-profit corporate religion, with accompanying "divinely-inspired" holy books, on the face of the plane, that is a Designer-breathed religion/book in which a Chosenite population is actually the group fancying itself a ruling rod of iron in the Creator's stead (i.e., no such alliance, Chosenites/Torah-god, exists in actuality). At least I hope we're mostly in agreement with that.
As an example, some people just will not give up their corporate religion, even among flat earthers. Take Edward Hendrie. His book is also Bible-centric, but has some factual information worthy of consideration. But one must wade through the religiosity to get to the gems. I have to face it; flat earth knowledge is tainted with the mythological fictions some bring to the table regarding the subject. I can only hope they give up the useless phony promises in a book of fairy tales, as I also have done.



Posts

: 263


Points

: 1360


Reputation

: 248


Join date

: 2017-03-31



TWITTER BANNED LOUIS FARRAKHAN AFTER NEW RULES FORBIDS INSULTING RELIGIONS AS HATE SPEECH.

note: TWITTER is owned and controlled by NAtional ZIonist JEWs.
More of these "Smart Channels" are starting to be promoted more and more on YouTube, getting tons of views and notoriety on YouTube's trending page. The motive is obvious but the subtle indoctrination is getting more hilarious. Just look at the symbols used by this channel called "It's Okay to be Smart."

The hexagon symbol is seen all throughout atheistic and jewish groups, promoting a hive-mind mentality based on deception and "hexing" the masses. If you see any channel with a hexagon symbol as it's profile picture, you can almost guarantee it's jewish/masonic in nature. Remember to pay close attention to symbols and the overall "spirit" of information. The thing is that most of these deceivers aren't even aware of the symbology they use, it's just apart of their nature. They've been indoctrinated by jewish and masonic education, they can't help it. I mean just look at this guy's background.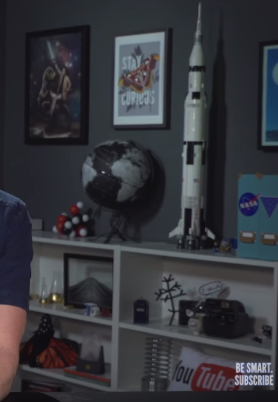 He's got a guy riding a dinosaur in space, the globe earth, Nasa logos and an MK ultra monarch butterfly all in one shot! Talk about subtle propaganda!
They all talk about how these so called "moon rocks" are one of the most valuable materials on earth and how we can learn so much about our moon's history from them. Yet, literally no useful thing has ever been derived from these rocks because guess what.....they're just rocks from earth! Once again, another case of tax grabbing. But if you're not part of their hive mind then you're not being "SmarterEveryDay."
Furthermore, these three videos are all being promoted by each other, hinting that there are higher powers promoting all three channels.
These channels names are : "SmarterEveryDay" "It's Okay to be Smart" and "Objectivity"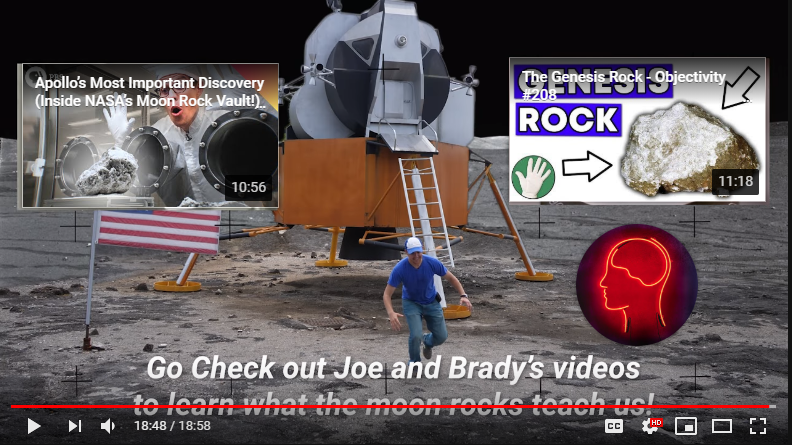 But I think we know whose really behind this...

Of course the Public Broadcasting Service is trying to move into the YouTube space because that's where all the children are today. If you have children, avoid these pseudo-science channels or they'll end up in the jewish-masonic HIVE!



Posts

: 1


Points

: 83


Reputation

: 2


Join date

: 2019-05-04



Page 4 of 4 •

1, 2, 3, 4

---
Permissions in this forum:
You
cannot
reply to topics in this forum