Looking for anyone interested in joining a live experiment to track our sun. We will have to set standards and parameters for the data to be accurate. There are many ways of approaching this type of experiment so any feedback would be appreciated. We can do a simple location and bearing to locate it during specific times and elevations. We can also take that into further detail, by getting the angle of the sun from your observation to determine its height. It will take a lot of data to pinpoint its height and perfect location. This is just the start so I think we need to get ideas and work from them to determine the best scientific methods.
One way to get the sun bearing is with a compass. Some are simple, some have a bearing indicator.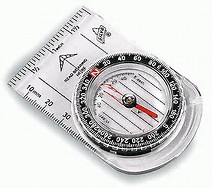 these types are usually under 10 dollars.
As far as getting the height of the sun and the degree of elevation, a tripod setup might be easiest and cheapest to setup. Most have spirit levels built in to ensure it is level and flat.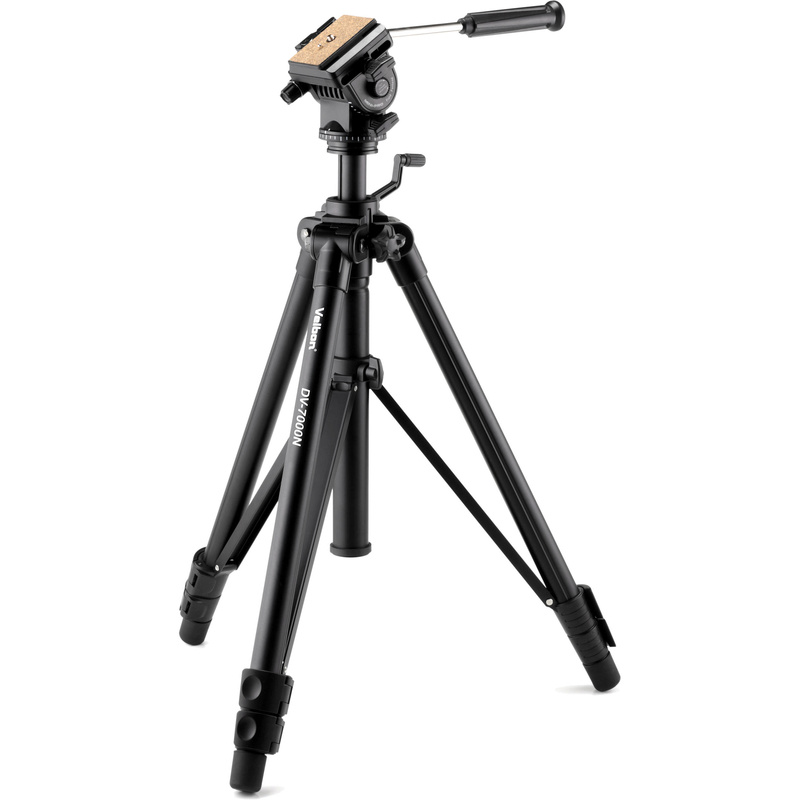 By setting the tripod plumb, you can get the angle from that level base. Some have the degrees built in on it, some you might have to get out a protractor. It is also important to note the height of the tripod base as it will be needed for the math.
To get good data, we first need to ensure the location you are doing the observations. Elevation from sea level is crucial and might be a good idea to find a site you can do multiple observations from. There will be a little bit of research needed to ensure you have the right data. Elevations can be found for local cities on most topographic maps. An altimeter may also be used and its accuracy verified with the topographic map.
Using high noon as a specific time might be useful as it is when the sun is closest to you, but not necessary. If we can get enough people involved, we can take multiple simultaneous observations and pinpoint co-ordinates. At this point I am trying to put it together in a package with instructions, so any input or ideas will help ensure it is concise. This can also be a great way to engage people that are on the fence on the subject. If they are involved in the data, they will be more inclined to know it is valid.
Anyone interested, you are welcome to post on this thread any ideas or tools you might think could be useful. Once we have a good outline, I will start an area on here to post the data as it comes in.



Posts

: 77


Points

: 1087


Reputation

: 118


Join date

: 2017-03-23


Age

: 62


Location

: Ontario Canada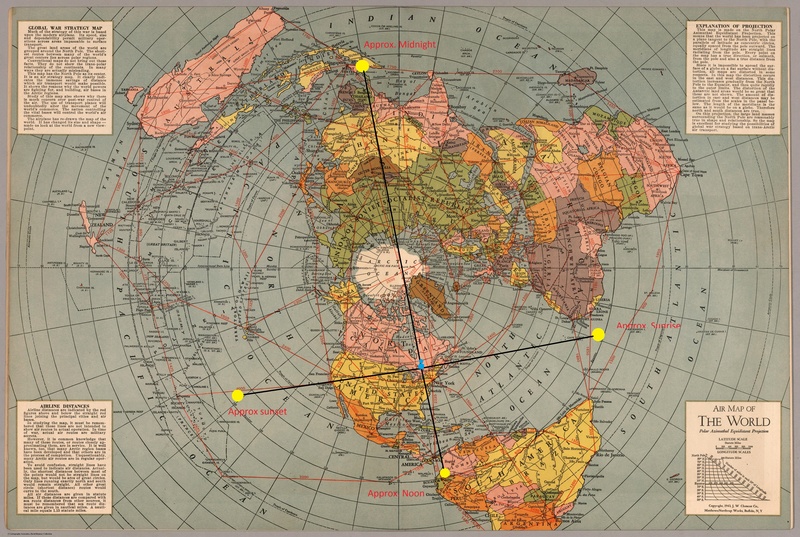 Many people have a hard time visualising how the sun can move above a flat earth and still have day and night. I've sketched a simple example of where I am and how I see the sunrise and sunset from my position.  
As you can see, the sunrise position is far enough from me to seem like it is on the horizon. When at noon it is closest to me which makes the sun appear to be at its highest position, when in fact it only seems this way because it is now at its closest position to me. At sunset it is on the opposite horizon and its light disappears along with it. At approx. midnight it is opposite of my position and opposite of noon. If you take the distance of sunrise and sunset, the distances at which I start to see its light, you can see why it is dark when it is midnight.
This method can also be used to locate the sun's position with the help of others data at the same times. Having a northern observers with southern observers using the same observation times, we can use the bearing of the sun from the observers to layout where the sun is. The more observations we have, the better and more accurate the data will be. If we have the angle of elevation, we can also use math and geometry to locate its height which can help in settling the size and position of the sun above us.
Disclaimer:
This is only an example and should not be used as fact. The map I used is not the true map and do not take it as such, it is only a visual aid at this point. The position of the suns is also just an example, and should not be taken as an actual observation.



Posts

: 77


Points

: 1087


Reputation

: 118


Join date

: 2017-03-23


Age

: 62


Location

: Ontario Canada



New app available on ITunes.https://itunes.apple.com/ca/app/aye-earth-sextant-and-horizon-calculator/id1213814492?mt=8&ign-mpt=uo%3D4
This new application has many built in features. The photo I attached, is a picture taken using the application, with the horizon at 0 degrees. It also gives you the heading at the top right 235 degrees SW along with your co-ordinates.
Your coordinates, the direction your photo is facing, the angle of inclination/declination among other data, is included in your photo and can be shared along with the photo. This is exactly the type of application needed to gather data. Using the coordinates and data, it can be input in AutoCAD and used to compile everyone's data.
At the moment it is only available on Ios, but I am looking at trying it on an IOS emulator for my Samsung and see if it works. We have the technology to make the scientists of old look like cavemen, let's put them to use.



Posts

: 77


Points

: 1087


Reputation

: 118


Join date

: 2017-03-23


Age

: 62


Location

: Ontario Canada



Bro Wrote

If you need any custom software for the storing / calculating of your to be collected sun tracking data i could help with that for your team... I do software development for companies needing data storage (databases) and math calculations (algos) applied to that data...

Here is a Link... https://servimg.com/view/19666880/3
of some software i did for a manufacturing company that builds custom projection models for Sony and IBM.... its attached to a SQL DBase and does algo calcs and sum algo calcs... and/or if you need Excel Calculating Formula WorkSheets for your team... I can program those with Excel DNA from GitHub or the default VB6 Editior.

Is your project a more 'accurate' effort then some of the existing hangout sundial attempts posted on youtube ?
RickFE wrote in reply to Bro...

Thank you for the offer. I would love some help. I started a thread in the sun section for this specific project. I haven't many responses yet. I am working on an instruction PDF and the best methods to ensure accuracy.

I want it to be as accurate as possible, not like the ones being done atm. Not that they aren't good tracking experiments, just seems they are half fasting it or winging it. Some are not taking into account their elevations, which is crucial in my opinion. A person on the same latitude but different elevation will get different results.

At this point I am in organizing stage. There is a new app out atm Aye.Earth. It has sun tracking, altimeter, bearing and declination/inclination, gps location and all of that info is tagged to a picture you can take as proof as well. It is currently only on apple products, but I am looking at trying it with an emulator for android to see if it works. This app is basically every piece of data I need. I will have instructions how to do it with a compass and tripod as well, but the easiest atm is the app. Many people are against it saying it's using globe math etc....That is false. We live on a flat earth, the data is based on flat earth mapping, flat earth gps triangulation etc.. The app is about 3 bucks or something which isn't much for what you are getting. It was featured on Beyond the Imaginary curve's channel.

If you are interested, please post in the sun section. I have a thread open called Sun tracking experiment. My goal is gather enough data to locate the sun, its height, its position and movements. This is a long term project, as in the more data we get, the more complete I can make the model. The map I am using will also be evaluated for accuracy by doing this project. I sent an email to the publisher so I can get info on a full size printed map so I can verify the scale and accuracy. By tagging the sun and its position relative to many locations, we can determine if the map is accurate. I mean a lot of maps are misleading, but the airmap with the straight flight paths has been solid in every way so far. It is not the same as the AE map most are using, and is not the same as the Gleason's. The amount of detail is crazy for a fake map. Some tiny pricks of an island are named in the middle of nowhere. If it was just a visual guide to show flight paths, why go all out with naming all the islands, bays, mountains even.

My goal is to have the instructions and my autocad model up an running by end of may. Just before the summer starts for me, so we can get data leading up to the sun's closest path on the cancer tropic and data as it heads back towards the Capricorn.
*********************
Bro Wrote New...
Yes... Sounds like you are carefully getting all your ducks all in a row with proper experiment design... two thumbs up.
I am two decades into software dev but am a Nubie to FE as of the first week of December 2016 about 4+ months and 200+ videos/books ago... so i will be catching up to your logic/IFERS logic stream in bits and pieces as the shell shock wears off.



Posts

: 61


Points

: 990


Reputation

: 51


Join date

: 2017-03-30



"Anyone interested, you are welcome to post on this thread any ideas or tools you might think could be useful. Once we have a good outline, I will start an area on here to post the data as it comes in."

Hi RickFE
My hat is off to you for your efforts with this project.
With you advise, will purchase camera, apps and sun tracking equipment needed for my observations at sea level, Atlantic Ocean, South Florida.
Looking forward to your instructions.
Realearth



Posts

: 209


Points

: 1325


Reputation

: 177


Join date

: 2017-01-25



I'm in central Ontario I have tripod and camera and I can get other stuff too. I can help let me know what to do and where to send the data.



Posts

: 1


Points

: 853


Reputation

: 0


Join date

: 2017-04-26



Great to see some interest. Atm I am working on building an autocad model to plot the data.
If any of you have an iPhone or ipod, or Ipad, Aye.earth is a new app that has all the tools needed to plot your position relative to the sun. I think its 3.99 or something like that. I currently have an android Samsung phone so I am looking at trying an emulator.

As far as the data, I have a few people on IFers with excel and data sheet programming experience that have offered to help. I am putting together a how to guide, that I will post on Ifers to get feedback and make any changes needed to ensure accuracy. I want as much accuracy as possible, so we can start eliminating the doubt that surrounds flat earth.

I am trying to get it all done up by mid may so that we can catch the sun on its way to the cancer tropic and back down to the Capricorn later this year. Multiple observations from the same individuals will help in determining the path of the sun, if any of the maps are accurate etc. I have a few different maps I am toying with, but the data this type of test can provide, will put to rest which maps are way off. Using lets say 6 people in different locations, locating the sun according to their location, we can then plot it on the various flat maps, and determine if they are accurate.

The more data we get, the better. I'm in northern Ontario, so just a little north of you. Our observations will be very close to each other.



Posts

: 77


Points

: 1087


Reputation

: 118


Join date

: 2017-03-23


Age

: 62


Location

: Ontario Canada



I have a decent camera, but the person that sold it to me did not give me any lens and I can't get the thing to focus on anything (perhaps it's user error). Once I get back closer to the city I'll be taking it into a store to get a tripod and possibly a lens. I'll then be able to help with some data from South Australia.



Posts

: 426


Points

: 2807


Reputation

: 1049


Join date

: 2016-01-04


Location

: Australia



Great, we need more people in the south to get better accuracy on the data. Do you have a IPhone or Iproduct? That Aye.earth app is like 4 dollars and can do all the things I need. Elevation, polar co-ordinates, bearing , photo with attached info..etc. It will even take the declination measurement.

I should have some information ready for scrutiny in a few weeks. I want the process to be accurate, so any flaws can be ironed out before we start.

ty csp for your interest, I will keep updating this thread.



Posts

: 77


Points

: 1087


Reputation

: 118


Join date

: 2017-03-23


Age

: 62


Location

: Ontario Canada



I just downloaded the app, in Ohio. Can't wait to get out there and use it.



Posts

: 56


Points

: 866


Reputation

: 57


Join date

: 2017-07-28


Age

: 29


Location

: United States



I am interested in downloading the app to help track the sun. I'm in southern NC. My Ipad is coming back from repair store Monday, as it fell out of my car due to its relative density LOL. I have been searching for sun tracking videos and found this one https://www.youtube.com/watch?v=nPlNcJ_IC5w
Thanks for your passion,
RisinHorizon aka Kim




Posts

: 9


Points

: 557


Reputation

: 2


Join date

: 2018-02-26


Location

: Pinehurst, NC




---
Permissions in this forum:
You
cannot
reply to topics in this forum