Elon Musk, CEO of Tesla Motors and founder of SpaceX.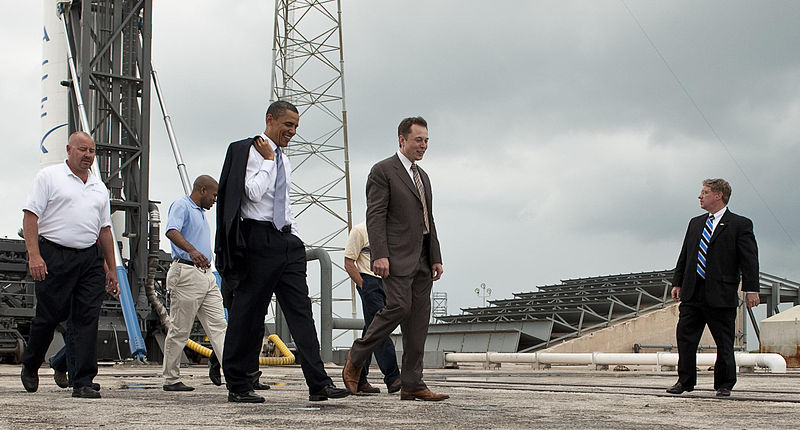 Jess Bezos, CEO of Amazon and founder of Blue Origin.
The privatized fake space frontier, powered by the latest in CGI technology - I can only image these companies will eventually go public and start taking money from gullible "investors" who believe everything they see on "TV".
Elon Reeve Musk
Born: June 28, 1971
Nationality: South African-born, Canadian-American

founder, CEO and CTO of SpaceX
co-founder, CEO and product architect of Tesla Motors
chairman of SolarCity
co-chairman of OpenAI
co-founder of Zip2
co-founder of PayPal

As of March 2016, Elon Musk has an estimated net worth of US$13.5 billion.

Musk has stated that the goals of SolarCity, Tesla Motors, and SpaceX revolve around his vision to change the world and humanity.



Posts

: 318


Points

: 1567


Reputation

: 773


Join date

: 2015-12-30




Speaking of FakeX,, err SpaceX...


Cant make this crap up.



Posts

: 77


Points

: 802


Reputation

: 262


Join date

: 2015-12-30


Age

: 57


Location

: NOLA



https://www.nasaspaceflight.com/2016/04/spacex-debut-red-dragon-2018-mars-mission/
SpaceX has entered into an agreement with NASA for a Dragon mission to Mars, set to take place as early as 2018. Known as "Red Dragon", the variant of the Dragon 2 spacecraft will be launched by the Falcon Heavy rocket, ahead of a soft landing on the surface of Mars. The mission is also part of an agreement with NASA to gain further data on Mars landings.
Looks like we have another privately funded company faking space travel.
http://www.space.com/33632-moon-express-private-lunar-landing-approval.html
For the first time ever, a private company has permission to land on the moon.

The U.S. government has officially approved the planned 2017 robotic lunar landing of Florida-based Moon Express, which aims to fly commercial missions to Earth's nearest neighbor and help exploit its resources, company representatives announced today (Aug. 3).

"This is not only a milestone, but really a threshold for the entire commercial space industry," Moon Express co-founder and CEO Bob Richards told Space.com.
Can anyone spot the masonic symbology on their main website graphic?
Hi csp, just more pure fucking drivel. Yep I spotted the masonic symbol.

The headlie on the website reads "For the first time ever, a private company has permission to land on the moon"

It should read, " Space SeX Graphics Department employees relax as threat of redundancies gone, the new Moon landing project will keep everybody in jobs for a wee while still making picture projections for flat screen televisions"



Posts

: 35


Points

: 569


Reputation

: 80


Join date

: 2015-12-31



Looks like we Jeff Bezos is ramping up propaganda for a similar self-landing CGI rocket like SpaceX:







Posts

: 9


Points

: 70


Reputation

: 14


Join date

: 2017-02-11



Why does Space X's launch seem to not shoot straight up into the sky but have a seemingly curved trajectory? Seems legit. I bet it just drops into the ocean.

dailymail.co.uk/sciencetech/article-4320972/SpaceX-lights-Florida-night-sky-launch.html



Posts

: 1


Points

: 9


Reputation

: 0


Join date

: 2017-03-22



---
Permissions in this forum:
You
cannot
reply to topics in this forum